In May of last year, my dear friend Melody and I went snoop shopping for dresses. I was having a hard time fitting a pattern for a cocktail dress and I was getting extremely frustrated. She suggested that we go to the mall and see if there are styles that flatter my body type. What an eye-opening experience! I cannot stress enough the huge benefits of snoop shopping!
It all started with my decision to make a dress for the PR Weekend-Montreal cocktail party. Making the dress was completely optional, but how can I go to a
sewing-themed
cocktail party and not wear something I made?! I made five muslins of
Butterick 5353
which only stood to increase my frustration after I couldn't get the neck yoke to fit properly. Grr...
So, off to the mall we went. We went in search of dresses and styles that may be better suited for my body. We visited Ann Taylor, Lord & Taylor, Macy's, Nordstrom, and possibly one other store. She wouldn't let me go to Sears or JCPenney and with good reason. She said that designers don't make quality clothes for discount retailers and that to get a good idea of fit and construction, it is better to shop at the higher-end stores. Makes sense.
First up is the Ann Taylor store.
I think the dress looks good from the front. The back, however, showed me why I might struggle so much with bodice fit. I have a massive upper back! If I wasn't a girl, I'd probably try out for the Lions. The dress was a size 12 and was snug in some areas - as you can see.

This dress had a midriff band and thin bodice straps. Ugh, the back! The angle of the armhole area makes my back appear even wider by showing too much skin.

Next we went to Lord & Taylor. With this group of dresses, we realized that a size 12 in Ann Taylor was NOT the same as a size 12 with designers for L&T. The Ann Taylor draft appears to be more forgiving of curves and affinities for chocolate.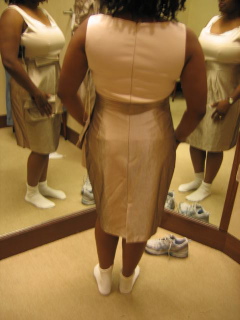 We both liked this dress. It was definitely too snug, but it had lots of potential design-wise. The bodice had armhole princess seams and a waist seam - designs that are a busty chick's best friend. The bodice style seemed to help minimize my broad back. The front overlay was just too cute!
Um....no. Hell no. Let's do the math: full busts + ruffles = hot ass mess. Keep it moving.

I think the expression on my face says it all about this one. Melody literally started jumping up and down in the dressing room when she saw me with this one. She really liked it. I, on the other hand, was not that impressed! I have to admit though, after staring at this for a few months now, the style is growing on me. I think the folds are still too full and the dress too long. Maybe with some alterations, I can make it work.


We were thinking view A of this New Look pattern can be adapted to knock this off.
This is the actual Suzi Chin dress on which Butterick 5490 is based. It's not too bad.