Last week, I started making muslins of dresses for my upcoming 20-year high school reunion scheduled for the beginning of August. The two events that I'm considering are the after-five casual mixer and black-tie dinner. First I'd like to get your thoughts on the mixer dress.
Since the mixer is casual, a cocktail dress is the way to go. I've been reading reviews and studying styles for a few weeks and decided that I want to jump on the peplum bandwagon. I made muslins of Simplicity 1650 and New Look 6124 and right now view D of the New Look pattern is winning. Here's why:
(Dorothy Perkins black illusion peplum dress, polyester spandex, $79)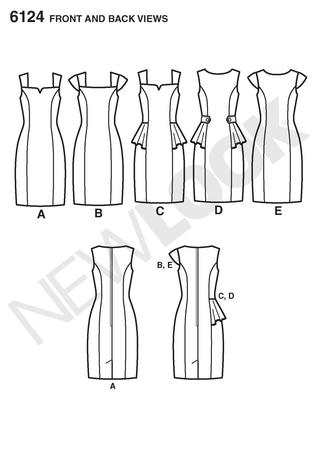 There are some small differences between the inspiration dress and pattern. First, the dress appears to have shoulder princess seams and a lengthwise opening at the top. Second, the peplum extends completely around the waist.
Question #1: Should I attempt to copy the neckline?
The neckline on the NL pattern is choke-worthy and with a full bust, it look like I have a uni-boob. Lowering and color-blocking the neckline area might reduce that effect. BUT...there's always a 'but'...the NL pattern doesn't have shoulder princess seams and I don't think this is going to look right without them.
If I don't end up copying the neckline, then I will try to swap out the center front for a v-neck. I made Simplicity 2648 three years ago and think this style does a better job at flattering my upper half.
Now I could just stick a peplum on this Simplicity pattern and be done with it. The thing is this dress is too big in many places and the back doesn't have princess seams. I could convert the darts to princess seams, but that still doesn't resolve the fitting issue.
Questions #2: Should I stick with white/cream center or go with another color?
I intend to make the dress out of silk cotton satin (same fabric as in the black & teal). I really like the white/cream center, but I don't know if my local non-JoAnn's has any. Fabric.com seems to have quite a bit, but I've heard they're having shipping problems and I don't want to wait until the last minute to finish this dress. Plus, I don't know how slimming the white/cream will be. Here are my other color-blocking choices:
Question #3: Should the back be solid or color-blocked?
I'm on the fence with this one. Instinct tells me to do a solid back; a color-blocked back might be too much.

Question #4: Should I make this in a knit?
The inspiration dress is made of polyester spandex - probably a double knit. I didn't think of that until this morning. The fit will be much closer and I'll have to size down my FBA.
That's all the questions I have for now. I really appreciate your thoughts and comments!