Remember this?
Doesn't this look like a heart and a cursive capital letter L? Love, L. Awww...
There's more where that came from:
I bought the fabric at the end of April completely excited about making the coat. But when I got it home, I was disappointed to realize just how stiff it was. I mulled taking it back because it really, REALLY would have been a pain to work with.
I had a small swatch and washed it to see if that would help. The swatch softened up a bit, but I wasn't sure if I could trust the whole piece to soften in the same way. So I sat it on a shelf in my sewing room and left town.
After thinking about it some more, I decided that I was going to return it once I came home. The fabric was around $17/yard (on sale) and I didn't want to waste the money. Who has time to sew a coat out of cardboard? What is this, an unconventional challenge on Project Runway? Nerp.
I saw someone walking around Sydney wearing a coat with a pattern very similar to the fabric. Cardboard be damned: I was making this coat!
I put the whole 2.5 yards in the washing machine with detergent and a little bit of fabric softener. I also put it in the dryer on the low-heat setting. Ah-ha! Success. The fabric softened very nicely. Although it still had elements of its former cardboard life, it was MUCH easier to handle and sew.
I probably should have washed and dried it a couple of more times. However, I noticed that this fabric picks up lint and fuzz balls like a raging dust buster. Another wash or two and I may have been completely discouraged from the project.
Pattern: The pattern is Indygo Junction 740. I made this in August of last year and LOVE it. Wearing this coat makes me happy, so why not double that good feeling? =)
Fabric & Lining: Just like last time, I used upholstery fabric purchased from...wait for it...Joann's! I almost never buy fabric from them because it's icky and expensive - can't be both. Occasionally I'll find a good piece or two. Most of the time, though, I don't.
The bolt label said that the fabric is 70% polyester and 30% cotton. I think the off-white base is polyester and the thread for the swirls is cotton. The fabric is two ply with both plies held together by all of the stitching.
The lining is black flannel-backed Kasha.. I love this stuff; it sews and presses nicely.
Tailoring: I included the same techniques as before: sleeve heads; back stay; and fusible interfacing on the front, side front, facings, and all hems.
Construction: I finished all edges of the shell first, then pressed them open with a clapper. Since the fabric was bulky, this was the only way to get nice, flat seams.
I hemmed the coat using a blind hem and ivory-colored thread.
I also added side seam pockets. This is something I didn't do on the first version and I wish I had.
Murphy's Law demands that I will set one sleeve at least three times. It happens with every jacket/coat. The right sleeve went in perfectly with no puckers. The left sleeve just would NOT cooperate. I was one minute away from hemming the coat when I looked at the sleeve and took it out...again. I set it two more times and pressed the hell out of it. Meh. It's marginally better, but still not quite right.
Ugh. The wrinkles! It's the sleeve head; I think I pulled too tightly. I'm not setting this sleeve for a fifth time because the sleeve cap is already stretched out. Any more fuss and I'll have to replace the whole sleeve. Y'all know that's not happening.
I added some of the same sea foam green piping between the facing and lining.
As for the picture on the right, we will not speak on the franken-fabric meld that occurred to make this part work. I have no idea what happened with the facing assembly, but trust me it is a hot mess in there. Fortunately the fix can't be seen from the outside. I just hope it holds!
Other Stuff:
The buttons are ceramic and handmade by moi. For the pottery folk, the glaze fired to cone 6 and is called Palladium by Amaco. The color looks black, but it's really a dark metallic silver. Yum!
I got the collar roll right this time, Rachelle! On the first version, despite trimming the under collar and cutting it on the bias, the collar would not roll. I made sure to encourage the roll more aggressively on this one.
I made a belt, but I didn't like it. Something about it just didn't feel like the first version. Even if I were to sew a button onto the belt, I still wouldn't like it. So, I took the belt loops off and chucked the belt. The coat has no shaping, but that's okay; it's a coat! It's not supposed to be form fitting.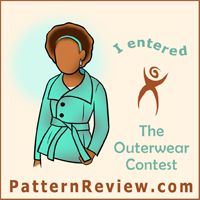 This will be my entry into Pattern Review's Outerwear Contest. I didn't even know it was going on until recently.
I hope to take pictures wearing the coat later this week. I want to get prettified and have the photos taken outdoors. Kinda goes with the spirit of the garment, ya know?
Up next: I have a couple of things in queue. I want a denim jacket after seeing (and drooling over) Valerie's version of Butterick 5616. I made a muslin of Kwik Sew 2895 and Simplicity 2443, but they don't fit. Surprise, surprise.
Random non-sewing comment: Anyone else watching 24: Live Another Day? I used to be ALL IN with 24. Since season 6, I've started comparing the number of times Jack says "Damn it!" to the number of times I say, "This is stupid." So far, I'm winning.
Until next time, peace!
L