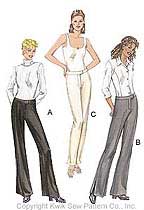 (photo credit: Patternreview.com)
Last summer, the lovely SarahLiz embarked on a pants fitting journey that I followed with great interest. She used several patterns, ultimately fitting Kwik Sew 2960 perfectly. In following her progress, I was reminded of my first attempt at fitting this pattern which ultimately ended in me throwing the muslin in the magic closet.
When it comes to jeans, I don't mind a few wrinkles because I think some are necessary to sit comfortably. But this pattern was designed for stretch wovens and, in theory, shouldn't have many wrinkles. Right?
I returned to this pattern again in September with a wrinkles-be-damned-I-need-pants attitude. I made three pairs, each varying wildly in fit and satisfaction.
When sewing the first pair, I noticed that the pants legs were WAY wide - wider than in the muslin. So I nipped the front and back pieces in near the knee by an inch on both sides.
Doing this gave a much closer fit and a nice flare at the hem. What can I say, I love flared pants!
Version 1 (stretch poly woven): fail
I have no pictures of this pair because I already donated them. Somehow, front and back side seams were off by a full inch and I had to stretch the pieces to fit. This caused unsightly puckers at the hip that could not be removed no matter how much I pressed.
Version 2 (rayon poly lycra woven): semi-fail
After fixing the side seam issue, this pair sewed much more smoothly. However, not all rayon-poly-lycras are the same. This pair stretched horribly! I could take the pants off without unbuttoning/unzipping. I cut the waistband on the cross grain and used a stretch interfacing - which only added to the problem. Plus after only one wear, the fabric started to pill. These are going in the donation pile or trash; I have no desire to try to fix them.
I bought five yards of this fabric and still have three left. Unless I find something else to do with the fabric, methinks this is getting donated as well.
Version 3 (rayon poly lycra woven): success
Either I'm a glutton for punishment or I refuse to be outdone by a piece of fabric. In any event, I gave the RPL another try. This time, I used a 2-yard piece left over from this Jalie jacket. This pair was a total success (although the jacket is in the donation pile).
The weight of the fabric is pretty much the same as version 2, however I think this has more rayon than polyester. The stretch is perfect and after two wearings and a wash, there is no pilling. I cut the waistband on the straight grain and used a non-stretch interfacing. The waistband is a little snug, but I MUST unzip and unbutton to take them off! I am definitely going to make more.
I'm still working on my fall sewing plans. The color scheme is grey, green, purple, and white/off white. I finally started sewing again and am almost finished with a simple tank top. I intend to start working on another version of New Look 6407 (pictured above).
***
Thank you so much for offering words of support. I'm doing better and simply trying to take one day at a time. I did a major bike ride yesterday and that lifted my spirits - while also making me extremely sore! More details on that tomorrow.
Until next time, peace!
L