One of my sewing intentions for 2015 is to keep up with the Burda-a-month sew along started by Dawn at Two On, Two Off. I figured that since I have a lot of magazines, it shouldn't be too hard to find and sew one pattern each month.
So far, January is off to a good start with this skirt.
Obviously I need to work on my tripod-camera-taking skills. I never seem to get the top of my head in the photo.
Fabric & Notions:
1.5 yards of medium-weight stretch wool twill

1.5 yards ambiance lining

7" invisible zipper

petersham as waist facing

80/12 universal needle

serger and sewing machine
The pattern: There are only three pieces: center front/back, side front/back, and upper side front/back. There is also a rectangular waistband, but I didn't use it because I didn't have enough fabric.

Size: The largest size available for this pattern is 42. I wasn't sure if this was going to fit, so I compared the waist/hip area to another BWOF pattern that I made in size 44. I knew the 44 was too big, so I figured the 42 would be just right. Due to the stretch of my fabric, I ended up having to take larger seam allowances to make the skirt fit at the waist. I did not make a muslin!
Alterations: I always have to do a 1.25-inch full seat adjustment on skirts. Since the center front/back and side panels are all the same pieces, I made separate pieces for the back to make the adjustment.
1.25 inches added straight across to center back
1.25-inch wedge added to long side panel piece
1.25-inch wedge added to short side panel piece
I made no changes to the front pieces.

Construction: Sewing was pretty easy. Beware that the side seams (where the two flared panels meet) are sewn before the front/back seams. I thought about sewing in a different order so that I could fit along the way, but decided to just follow the instructions and make any in-progress adjustments on the front/back seams.
Also, the zipper is installed in the side back seam, and not in the side. I questioned this at first, but realized that this is a good idea because the side seams have four layers of fabric and that probably would have been a PITA to deal with.
I used my serger to finish the edges of the fabric first, then sewed them together with my machine. To reduce bulk (and there's a lot of it with all these layers), I pressed the seams open.
I finished the hem with a rolled hem. I didn't add any hem allowance when I cut out the pieces and the length is perfect for me.
I wore this outfit to work on Wednesday and got a few compliments. The skirt is very flirty and I loved how it "swished" when I walked.
********
The top is my fourth version of New Look 6407.
The wrinkles are from wearing the outfit all day.
Remember these?
Yeah, I got rid of that foolishness. I am MUCH happier with the latest version.
I didn't use french seams in sewing this version; instead, I serged the seams to one side and pressed. Better finish in less time. Score!
Many people rave about Pam's interfacing at Fashion Sewing Supply. Well +1 me to that bandwagon. I hesitated for a long time because this stuff is expensive, but it is SO worth it.
Look at that awesome crispness! I don't think I will ever use a different interfacing in my shirts again. You can tell that the facing is interfaced because the fabric's natural wrinkles don't even show up! That is some serious product.
The sewing instructions weren't too clear on which side of the collar and stand should be interfaced: upper vs. under collar and inner vs. outer stand. So I emailed Pam and she said that any piece that faces the body receives lightweight or NO interfacing. So the under collar, inside collar stand, and inside cuffs (if I had any) are not interfaced. Following her suggestions made such a huge difference in how the collar lays on my neck.
Now if only I can get those damn collar points to be...um...pointy.
Anyway. I am totally stoked about my first two finished garments of 2015. Woot.
I've started working on Simplicity 4077.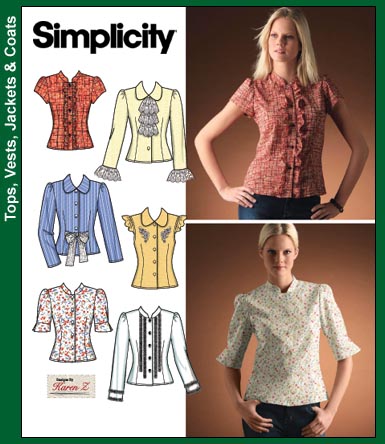 I tried sewing this about 8 years ago when I was still learning about FBAs and fit. Now that I have a good fitting blouse with shoulder princess seams, I'm going to try to alter this one to fit.
I love me some New Look 6407, but that V-neck is quite scandalous. I had to wear a tank top underneath the teal one for work because there was all kinds of flashing going on. I'm eager to try this Simplicity pattern.
I saw a review where someone made the one with ruffles in a black eyelet. It was so cute! I have some black eyelet in the stash too! Details (good or bad) coming soon. Eventually. Hopefully. =)